Explore the canal at your own pace aboard our self-drive hire boat Leamington which can carry up to 12 people including the skipper.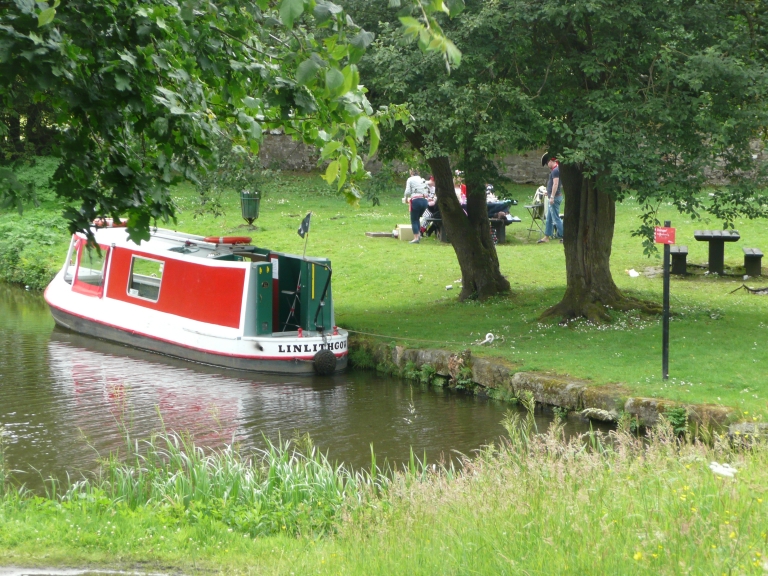 Leamington has a small enclosed cabin, open foredeck, toilet and sink. However there are no cooking facilities and it is unheated. All self-drive hires are from the canal basin.
One member of your party must be nominated as the skipper and the Leamington – Information for Hirers guidance should be studied by the hirer and skipper before leaving since it describes possible options for your trip. At the start, a LUCS volunteer will provide training which can take up to 30 minutes. This time is not included in the Hire time but starts at the time the hire is booked.
Leamington must return to Linlithgow before dusk.
Prices:
8 hour hire (full day) – £240
6 hour hire (short winter days) - £190
4 hour hire (1/2 day) – £130 (note that the 4 hour hire is not available at weekends)
Falkirk Wheel hire, a 10 hour trip – £320. Please refer to the Falkirk Wheel self-drive guide
Payment for your self-drive hire must be made online through our booking system.
Please note hire requests at less than ten days' notice are not possible. Early booking is advised, particularly at weekends
The Calendar shows when Leamington is available for hire and enables you to make a booking and to pay on-line by credit card / debit card or by PayPal. A LUCS Gift Voucher can be used as part or full payment.
Gift Vouchers: If you are thinking of a novel present for Christmas, a birthday, an anniversary or any other occasion, LUCS can provide gift vouchers for the hire of the self-drive boat, Leamington. The gift voucher can also be used for the hire of Victoria or St Magdalene with a driver and crew, Town Boat Trips, Aqueduct Cruises and Falkirk Wheel Cruises.